Christmas 2021
Friday, December 31, 2021 by Lisa Barwell | Performing
Christmas Fun
November - December 2021
Christmas time is always a special season here in the studio. We always celebrate in some way, whether it's with a recital or other performance, or with games and activities themed for the season.
This year, we created a special Advent Calendar for family and friends to follow along with each day. To count down the days until Christmas, a video was released each day on the studio YouTube channel that featured a student performance. Click here to go over to YouTube and see our videos. We had fun preparing and recording our music for the project!
After working hard for several weeks on the Advent Calendar, we were ready for a break! Lily Music Studio students enjoyed playing games in the weeks leading up to Christmas.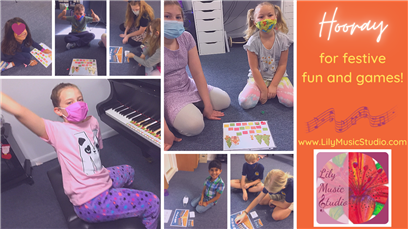 We hope you all had a fun Christmas season, too!
- Lisa