Fall Performances
Saturday, November 24, 2018 by Lisa Barwell | Performing
Fall Performances 2018
Sharing Music with Others
This fall semester we were presented with a couple of unexpected opportunities to perform. We jumped at the chance to share our music with others and had so much fun doing so!
Here are some of the students who performed background music at a craft fair. They prepared quite a few pieces and played on a rotation for several hours. They were amazing! Vendors mentioned that they enjoyed hearing the music throughout the morning.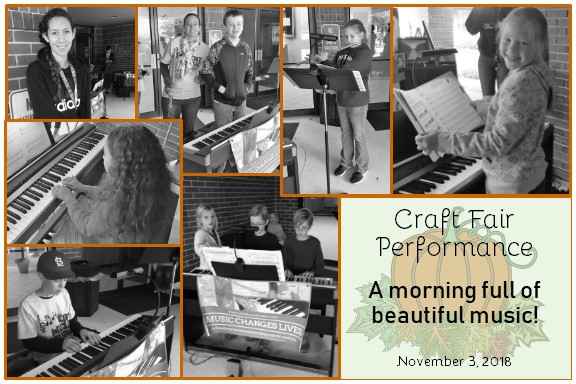 Another group of students performed for residents at Taylor Home on Veterans Day. We had so much fun meeting the people there and heard many stories of their time in the military. We enjoyed seeing their pictures and hearing their memories!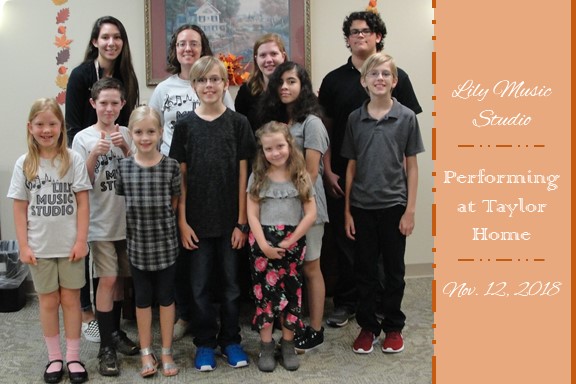 The students and I learned a lot through these experiences. The students learned more about how to choose and prepare their own music and we all grew in our knowledge of stage presence and musicianship. We are grateful that we could share our music with others!
Creative Composing
Monday, November 12, 2018 by Lisa Barwell | Composing
Creative Composing for Piano
Fall 2018
Every year, I work hard to include various forms of composing activities for students in the studio. Composing is to music as writing papers is to English. We learn so much through writing down our own musical ideas!
Pianists who join the studio at a young age go through several 'rites of passage' in their composing curriculum. When they just start out, we do a lot of improvisation (composing 'on the spot') that isn't very formal; they just play around with melodies and we may or may not write it down. When the students are old enough for a workbook, they graduate to 'Barnyard Brooke and the Magical Motives' which allows them to learn more composing tools and teaches them how to write the music they are creating. Each year after that, they progress to the next two books in the series and are then old enough to participate in our mashup video project. Check these out below.
Students are always excited to follow Sage on her quest to rescue her father in 'Brave Sage and the Magical Motives.' Sage's father, the king, has been kidnapped and Sage has to rescue him! She encounters obstacles along the way that she overcomes by composing motives (short melodies) to complete each piece. Enjoy watching the first video in this year's project:
After completing the 'Brave Sage' book, students move up to the next level in the series, "Castaway Kip and the Magical Motives." Kip has been shipwrecked on an island and has to gather the parts of his ship in order to put it back together again. He meets several interesting creatures along the way. Here is our first video for the year:
All students, piano and flute, in Lily Music Studio compose their own music, even if they're not participating in one of the books mentioned above. Some other recent compositions by a middle school flutist and middle school pianist were about Autumn leaves and turned out quite nicely. I love to hear my students' creativity! I hope you enjoyed hearing the above compositions!